International Department of Ophthalmology Clinic ASTANA VISION in Almaty
Organization of treatment of foreign patients without intermediaries
The best clinic in Kazakhstan, according to independent surveys
Umbeteeva Dinara Altaevna
Medical director of the clinic in Almaty, ophthalmic surgeon, doctor of the highest category.
Our clinic provides a wide range of services, choose the one that suits you and sign up for a free consultation
Surgical operation with the use of laser technology for the correction of vision problems in situations with myopia and astigmatism.
Transform your eyes and find a new glow. Feel confident in every look and leave an unforgettable impression with delightful eyes after blepharoplasty.
Restore the clarity and clarity of your vision with advanced cataract surgery.  Regain your full vision and enjoy the bright colors and details of every moment.
Don't know which service is suitable? Fill out the prepared form and send it to us, we will tell you which treatment is right for you
You will receive high-quality treatment on modern equipment at affordable prices.
We receive your request and study the details of the appeal
Providing you with detailed information about treatment options
We draw up a detailed treatment plan
We organize a trip: select tickets, book accommodation. We provide a personal translator
Sign up for a free initial consultation
During the consultation, you will receive 2-3 quality treatment plans for your budget
Our service is supported by a unique set of modern diagnostic and surgical equipment from the world's leading manufacturers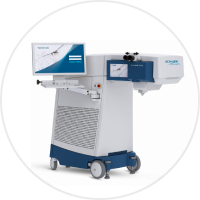 Femtosecond laser SCHWIND ATOS
SCHWIND eye-tech-solutions, Germany

The most innovative laser from the leading German manufacturer for laser vision correction using the SmartSight method (SmartSight). These laser vision correction methods are the 3rd generation of refractive laser surgery in the form of Refractive Lenticular Extraction (REL), in addition to FemtoLASIK/LASIK and PRK technologies.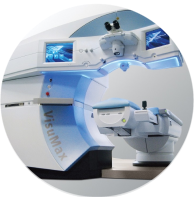 VisuMax femtosecond laser
Carl Zeiss Meditec, Germany

Femtosecond laser VisuMax (Carl Zeiss Meditec, Germany) for laser vision correction using the ReLEx SMILE method (Relex Smile)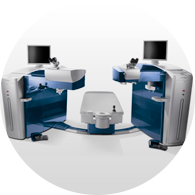 WaveLight® EX500 excimer laser
Alcon, United States

The excimer laser WaveLight® EX500 (Alcon, USA) is currently a premium level device. The high speed and accuracy of the laser and the ability to perform personalized (customized) procedures allow you to achieve high clinical results even in the most difficult situations.
WaveLight® FS200 Femtosecond Laser
Alcon, United States

WaveLight® FS200 femtosecond laser (Alcon, USA) is an innovative laser technology that allows you to create a corneal flap that minimizes surgical risks and increases the accuracy of its formation, in contrast to the mechanical method of its formation in LASIK.
Our clinic employs highly qualified specialists with extensive experience. Choose the right doctor and make an appointment for a consultation.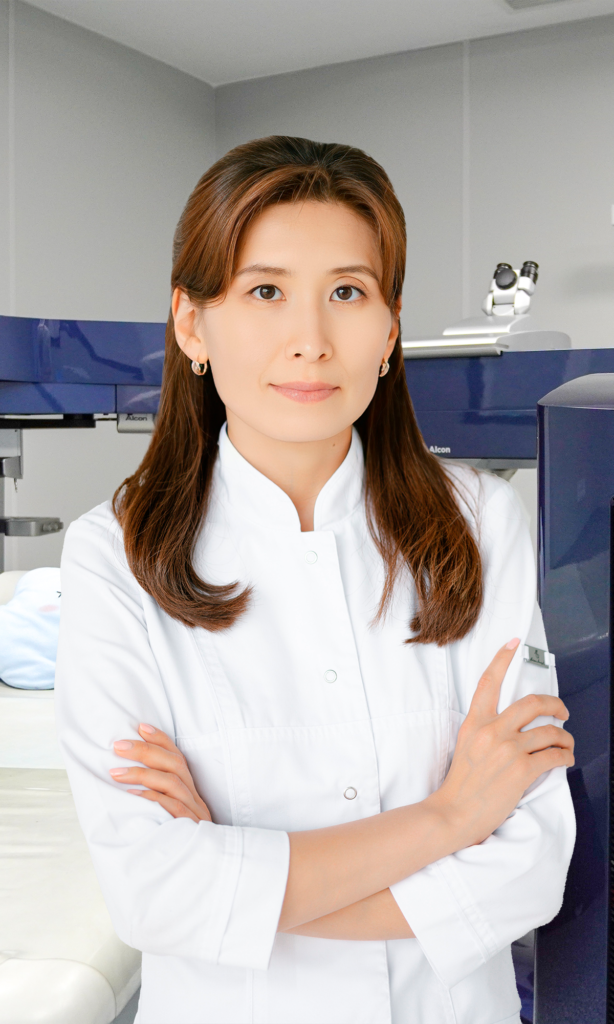 Umbeteeva Dinara Altaevna
Medical director of the clinic in Almaty, ophthalmic surgeon, doctor of the highest category.
Golovatenko Sergey Petrovich
Ophthalmologist of the highest category, laser surgeon.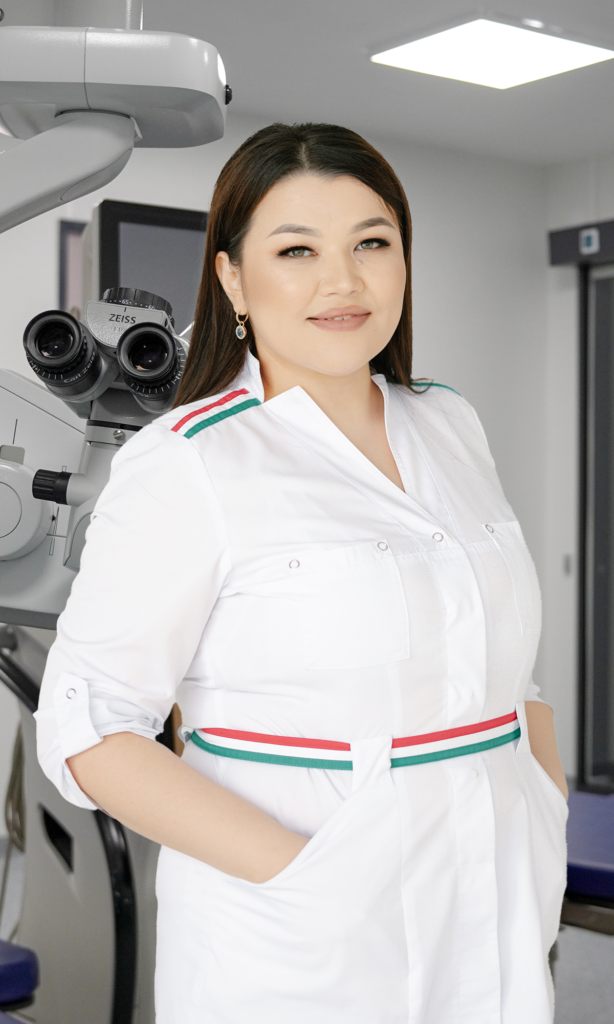 Bizhanova Damira Nurtursynovna
Ophthalmologist of the second category
Ophthalmic surgeon, member of the European Society of Cataract and Refractive Surgeons, member of the European Society of Orthokeratology.
Over the years, hundreds of patients have visited our clinic. We are always happy to see satisfied customers. 
Astana Vision is a place where the dreams of our patients come true, or rather, a dream, because all of them have one dream - to see this world in perfection with their own eyes!
It's been a month since I had an operation to improve my vision at the @av_almaty clinic. I see line 12 out of 12 on the vision chart!😱 What a pity that I did not do this earlier, but perhaps everything has its time💁🏻‍♀️
how I regret that I did laser correction so much later 😅 I chose @av_almaty twice, I was examined twice and did not decide for a long time, BUT how quickly and painlessly everything went 🙏
I can safely advise you the @av_almaty clinic! Pleasant staff, care for each patient is felt, many thanks to my doctor Sergey Petrovich @doctor_golovatenko for everything!
For the convenience of our patients, we tried to answer the most popular questions